Taking Strides Against Mental Illness fundraising walk at the Ridgewood Wild* Duck Pond in Ridgewood, NJ.
Heavy rain the night before swelled the Saddle River above it's banks forcing the walk around the duck pond instead of on the bike path, but for the most part the rain held off during the walk.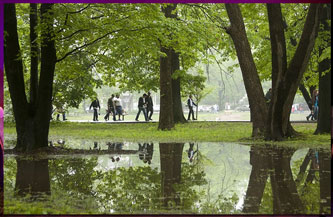 Final pictures were taken under the tents as it started to rain harder then.
Kudos to the organizers for the positive spirit of the event that brought together mental health practitioners, folks from homes and many others. And of course the rain and reflections made for interesting pictures….
*how they call it a wild duck pond I will never know. The ducks are as tame as they come, the whole pond was been created by bulldozers when the dredged it a few years ago. But then calling the Saddle River a river is pushing it as well, though I guess by the time it makes it to Lodi it has swelled into legitimacy.

https://picasaweb.google.com/117725050850232707038/MakingStridesAgainstMentalIllness#
Contact me if you would like high quality watermark free versions or prints of any of these shots. Most are suitable for 8×10 or  even larger.