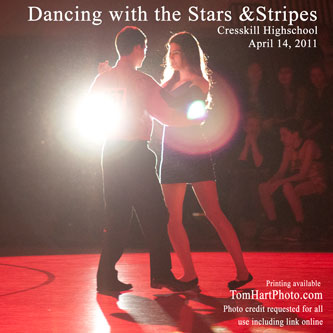 Cresskill High School Gym April 14th….
Modeled on Dancing with the Stars to benefit the Teaneck Family Readiness Group, serves the families of the soldiers who train at the Teaneck Armory. …two professional couples Jean Michel Erolehe's dancing with Sofia Bogdanova  and Paolo and Liene DiLorenzo. Whole event was organized by Barbara Muller.
….24 student couples participated. An interesting lighting challenge but some good shots. Needless to say their were a lot of throwaways….and nearly everything was shot at max iso and f-stop.
If you want a higher resolution and copy right free version on one or more of them please contact me using the comments for the shots you'd like. 
https://picasaweb.google.com/117725050850232707038/DancingWithTheStarsAndStripes#
Contact me if you would like high quality watermark free versions or prints of any of these shots. Most are suitable for 8×10.