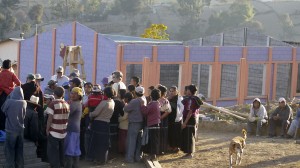 In early March, 2011, I  spent a week helping to build a school in the highlands of Guatemala west of the capital  for the indigenous people. My stepfather-with a lot of help from my Mother (CFO) and my ex-pat step brother, created a charity to build schools http://siennaproject.org/ to help the indigenous people of the area…without going too far into the politics, the US government is part of a long list that oppressed these folks so it's nice that we Americans can do some good down there.
For 4 of the days we helped to build a 3 room concrete school in a village in the highlands west of Guatemala City. (full disclosure…I built and maintain the website).
By helping to build the school…working with the village men to create something they needed it felt like we really connected with these people…despite my limited Spanish (and far more limited Quiche', their native Mayan tongue). Really hard for me to describe, but we truly felt by the end of the week all of us felt  we were connecting with these people and especially with the children.    I know helping people build a school hardly seems like a vacation, but it was quite special. In reality, most of the work we did the villagers could have done, but by working with them we were able to connect in a way that a monetary donation never would. Honestly, I was surprised.
On the first day we played tourist in the highland Market town of Chichicastenango and on the we were in the colonial capital of Antigua (old) Guatemala which was destroyed by an earthquake in the 1770s, languished for a couple of centuries and is now a tourist town with an interesting twist—many of the churches wrecked by the earthquake left largely as they fell.
Of course lots of the fun was a good group of people that we went down with, good food and drink  and the great job my folks did as tour organizers.